Games and Projects
Capsule Man! My very first game project!



During the third year of my undergraduate studies, I took an Intro to Video Game Programming class that focused on Microsoft XNA and Unity3D. The final project was a Unity3D project, and due to some creative differences with my group, I ended up having to do a whole project alone in a week to get this in on time, and I couldn't have been more proud of what I have accomplished for that short amount of time and for this being my first ever game. It has two stages, a topdown/ first person shooter level and a 2-d side-scroller level. The game features AI that patrol and attack you when you're close, pickups that let you upgrade your weapon, health pickups, checkpoints, music, particle effects, and much more. Check out the video!
Star Wars VR Pod Racer!



During BitCamp 2015, Matthew Allen and I really wanted to make something in the Unreal Engine, as we wanted to grow our portfolio of games made using it as well as our skills using the actual engine. So, we decided to have fun with it and make a Star Wars VR Pod Racing game. We even streamed our development live on twitch.tv and ended up on a VR news website with an article written about our little game, which made us feel awesome! I programmed the game using Unreal Engine's visual scripting tool called blueprints, as it allowed for us to be able to prototype the game quicker and iterate faster for the short amount of time we had during the hackathon. We had a lot of fun making it, and we had features that included laps, best lap time, best total time, checkpoints, speed boosts, and hover mechanics. Check out the video, I hope you like it, and may the Force be with you!
LeapVR DJ! Be a Virtual DJ!



MHacks IV was a big hackathon for me. This was the first time that I used the Oculus Rift, and I actually met the CEO of Oculus at that hackathon. It was during the rise of popularity for the oculus, during the time of the DK2. The Oculus still was not that popular with the hackathon scene but it was starting to grow so we decided to hop on early and see what it's all about. It was amazing, and I loved developing with the oculus rift. I created the game using Unity3D and the game put you in the shoes of a DJ at a busy club featuring smoke machines, strobe lights, balls that shoot fire particles when you look at it, a minigame where you do certain gestures using the leap motion to get a score, and of course, the DJ part, which at this point was a button that altered the music and made it seem like you were a DJ applying effects to music. It was completely virtual as the use of the Leap motion controller meant you used your actual hands and saw them in the game, making it more immersive.
DressYou, the virtual dressing room!



This is a different kind of game. It's more of a "simulator". It was made with Unity3D, and the idea was to give women a model to look at and see how the clothes would look on them. For the purpose of the demo, we used a bodyscan of our team mate who was the person who came up with the idea, and we used models made of clothes that she designed fitted onto the model when the buttons are pressed. It's pretty simple, but the purpose was to have a proof of concept demo to present.
LeapShooter, shoot em up!



This was the first game that I made using the Leap Motion controller. This was the first time I delved into the realm of virtual reality. Using hand gestures as input instead of a controller or a keyboard and mouse is the coolest thing I've experienced in a while and only because it actually worked really well. The leap motion uses IR sensors that accurately capture each finger individually and each hand seperately and each gesture you do is easily recognized and turned into code using their brilliant API. So using this cool tech, I decided to make a fun western style shooter game with classic moving targets. Check out the video!
SurfVR, surf's up, in VR!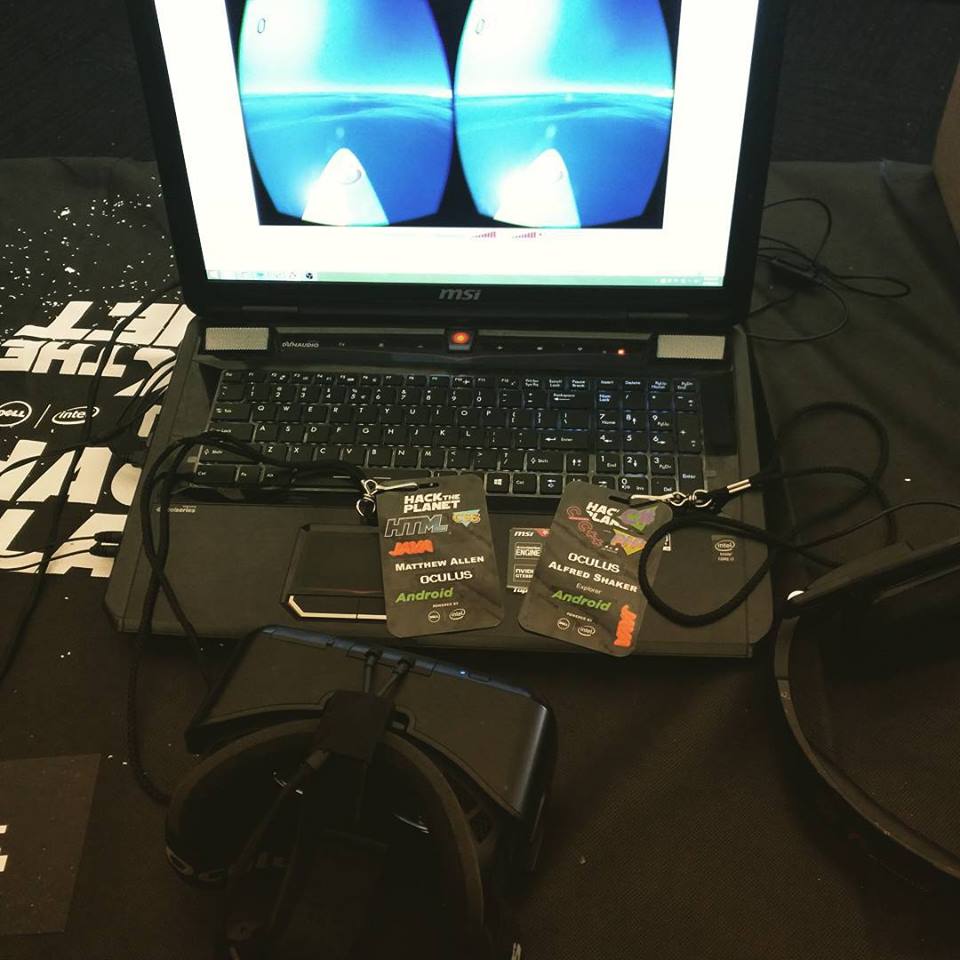 In the spirit of being in California for the first time and being personally invited to attend and take part in the first annual Hack the Planet, Matt Allen and I decided to make a Virtual Reality Surfing Experience, which came out of the thought that this is a sport that barely has any games on the market, and we could start something fresh. We used the Unreal Engine and made a game where you are a surfer on a surf board in the water going in the direction you look and collecting things out in the ocean that increase your score. It's a fun and immersive experience due to the brilliant buoyancy effect of the water and the amazing visuals and lighting effects of the Unreal Engine. Unfortunately I do not have a video of it, but here is a photo with a nice scene from the game!